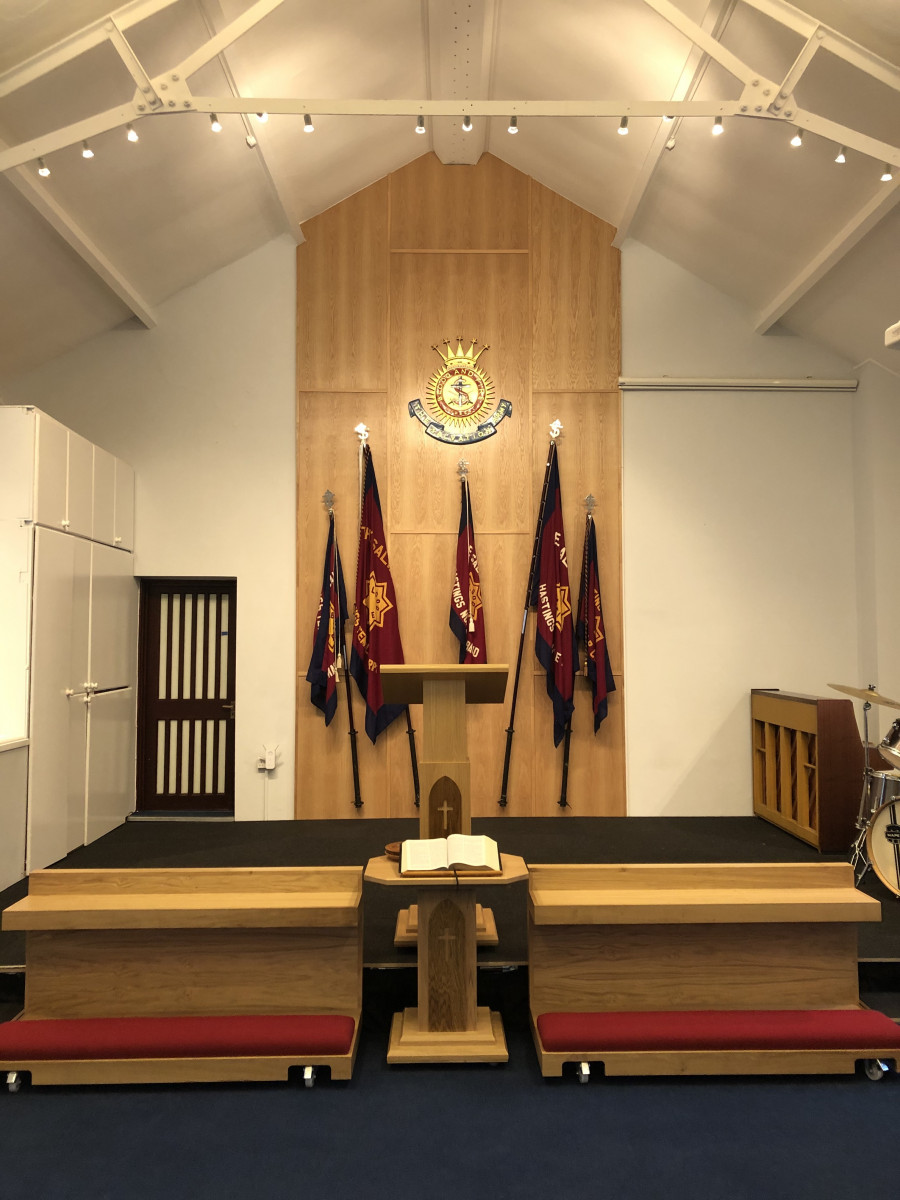 In August 2019 Fullers Finer Furniture were contacted by a representative from Hastings Temple Salvation Army in connection with the provision of furniture. The Hastings Temple Salvation Army building, originally opened as a cinema, was then used to store furniture and was established as a church in 1935. The brief was for a Canterbury Lectern, Mercy Seats and a Holiness Table.
Photographs of the church were sent and wood samples and drawings dispatched to ensure the furniture matched both the existing décor and the requirements of the client. The Canterbury Lectern was purchased first. This was made in natural oak and bore a Gothic arched panel in medium oak with a cross in relief. The height adjustment of the lectern, as with all Fullers "Canterbury " and "York" Lecterns operates by virtue of a simple, reliable, gas height lift system and activating lever. The only maintenance required is to use the system! Each lectern is supplied on 4 castors for easy manoeuvrability.
The lectern, finished for compatibility with the church audio system, was purchased with the recommended flexible gooseneck microphone. Personalised further by a plaque the lectern was dedicated to the memory of one very special member of the congregation. The lectern was delivered in November 2019,
In the following weeks the church received permission to proceed with further items and the specifications for the Mercy Seats and Holiness Table were finalised and work commenced. The order was for two Mercy Seats in natural oak, supplied with padded kneelers to match the existing soft furnishing in the church and one Holiness Table also finished in a natural oak. Both items had castors fitted , to aid flexibility in use.
In order to complete the refurbishment ,the church then placed an order for the pine panelling at the front of the church to be replaced with natural oak veneered board, edged with solid oak lippings, all finished in a natural satin lacquer to match the previous furniture supplied. The Salvation Army Crest was retained as a focal point.
Fullers priority is always to provide excellent craftsmanship and customer service whether it be a one off order or multiple orders over a period of time. The emphasis is on meeting the Clients specification in a way that combines beauty, practicality and convenience.
At Hastings Salvation Army the furniture was well received, the invitation to go back and carry out further work a positive testament to the craftsmanship and attention to detail synonymous with Fullers Finer Furniture.