Uniquely created for practicality and beauty.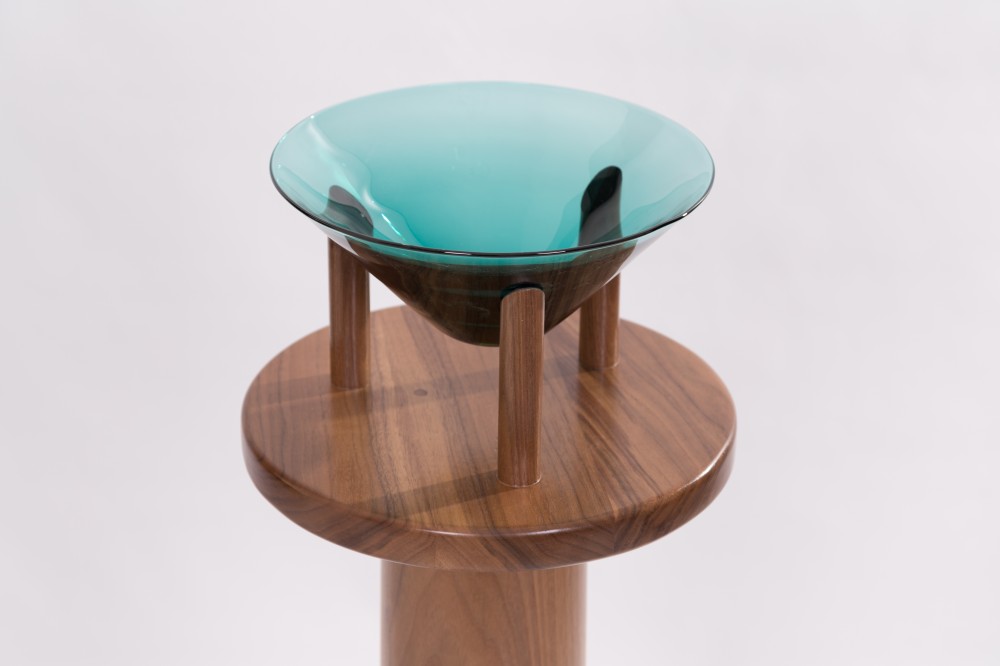 On 27th November 2016 Stoke Newington Methodist Church opened the doors of its new Church on Stoke Newington High Street. Fullers Finer Furniture was approached to assist with the design and manufacture of furniture for the building, having in recent years worked in a number of Methodist Churches in London. Whilst great care is taken to ensure that each project receives identical expertise, craftsmanship and customer service, each is uniquely created to suit the specification and character of the individual Church. There is no "one size fits all".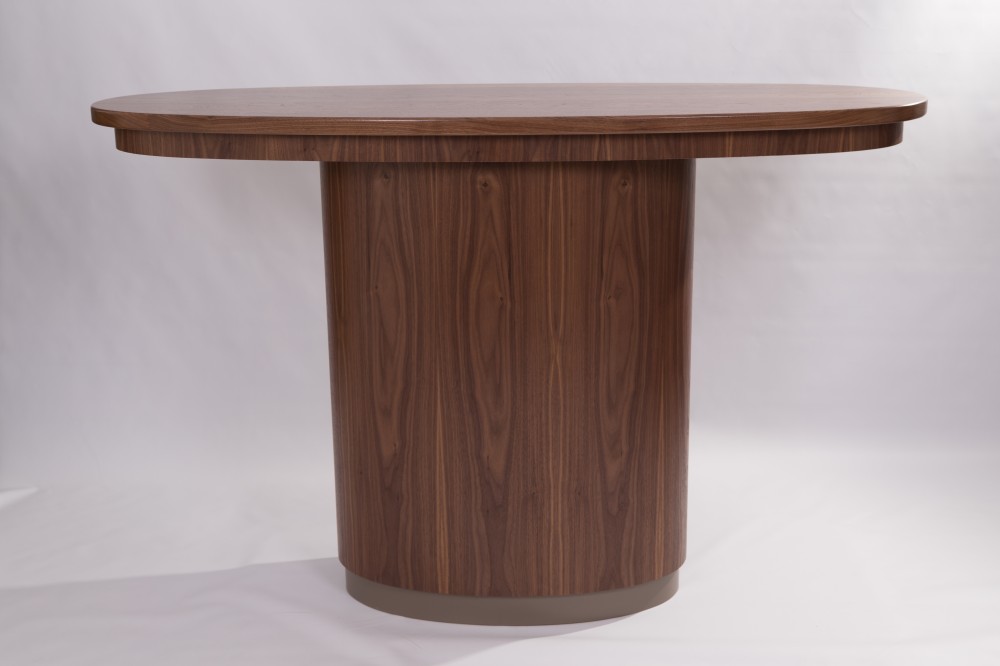 The specification was for practical furniture, with a soft curved image, in black walnut to serve and enhance the practicality and beauty of the new building. The Church has a welcoming glass front displaying the decorative window from the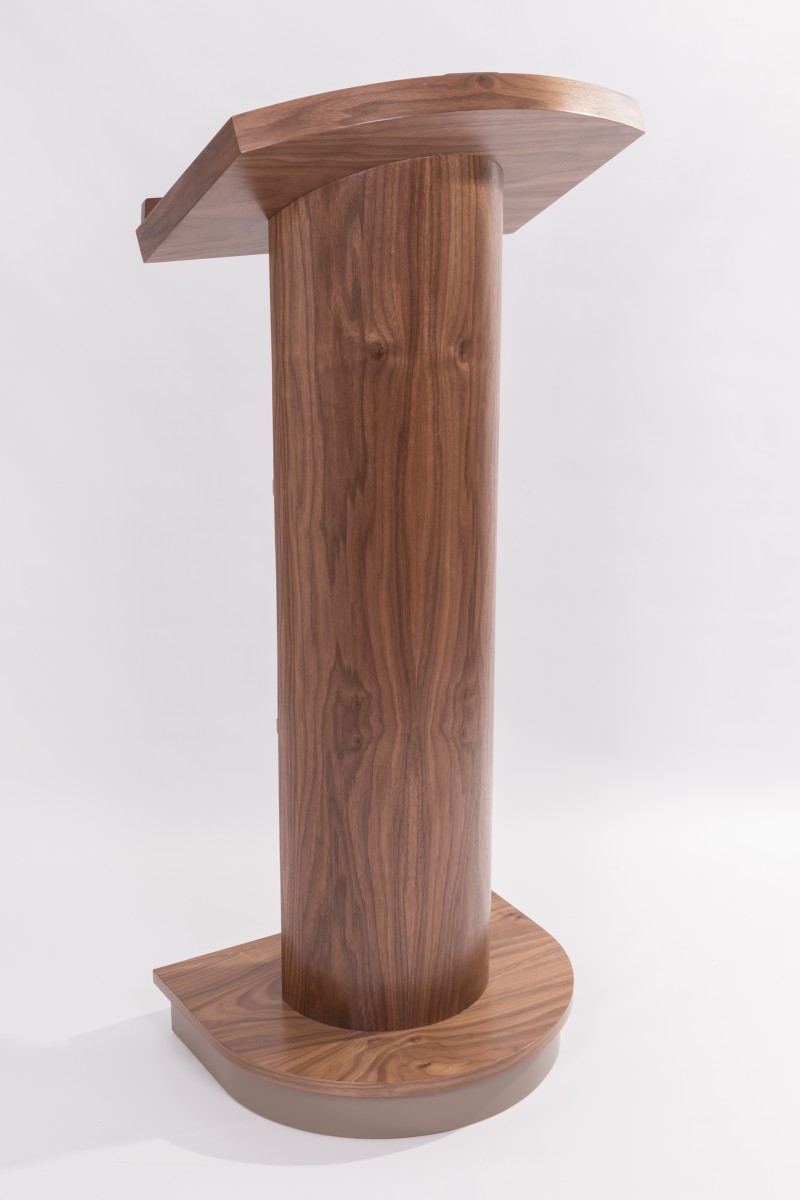 earlier Church. Inside the main sanctuary area is modern and practical.
Fullers Finer Furniture was commissioned to build a pulpit, communion table, lectern, font, communion rails, AV cabinet and to supply chairs for the building.
The pulpit is of a unique curved front design, fitted with shelving and a microphone. The communion table, likewise, is unusual in that it is oval in shape, and has a practical cupboard at the back. A matching lectern was also supplied fitted with a built in mic socket. The font was similarly designed and is supported by three legs. All the above items were fitted with matching plinths in a matt earth colour, resulting in a soft but very contemporary feel, in keeping with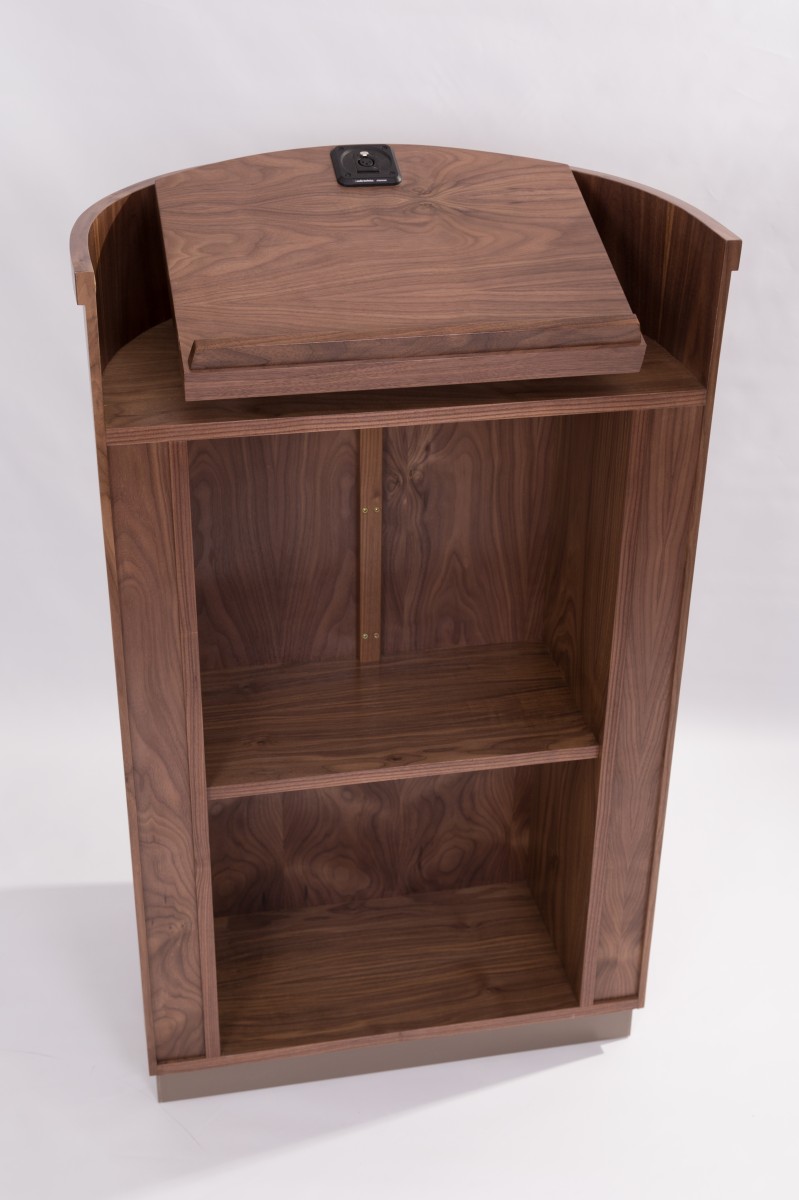 the architecture of the building. The font has a glass bowl picking up the colour of the stained glass window in the entrance foyer of the Church, the carpet colour and the fabric on the seating, all of which provide a contrasting splash of colour.
The AV Cabinet was one of several to be supplied to this group of Churches and as with all the others was finished to a size and specification uniquely suited to the requirements of this particular Church.
The commission, also included the provision of four removable communion rails, with handrails and cup rails made from American black walnut and painted metal legs to match the finish of the existing wall cross and also tying in with the metallic looking plinths on the other items of furniture. The rails are made to be sturdy yet easily removed and stored, when required. The kneelers, finished in the same fabric as the chairs complete the look.
The brief to combine the dark wood finish, with the metal and to produce practical, timeless, beautiful furniture made this a most unique and interesting project and one in which Fullers Finer Furniture was delighted to be involved.