"Maximizing experience and expertise to custom build for the future"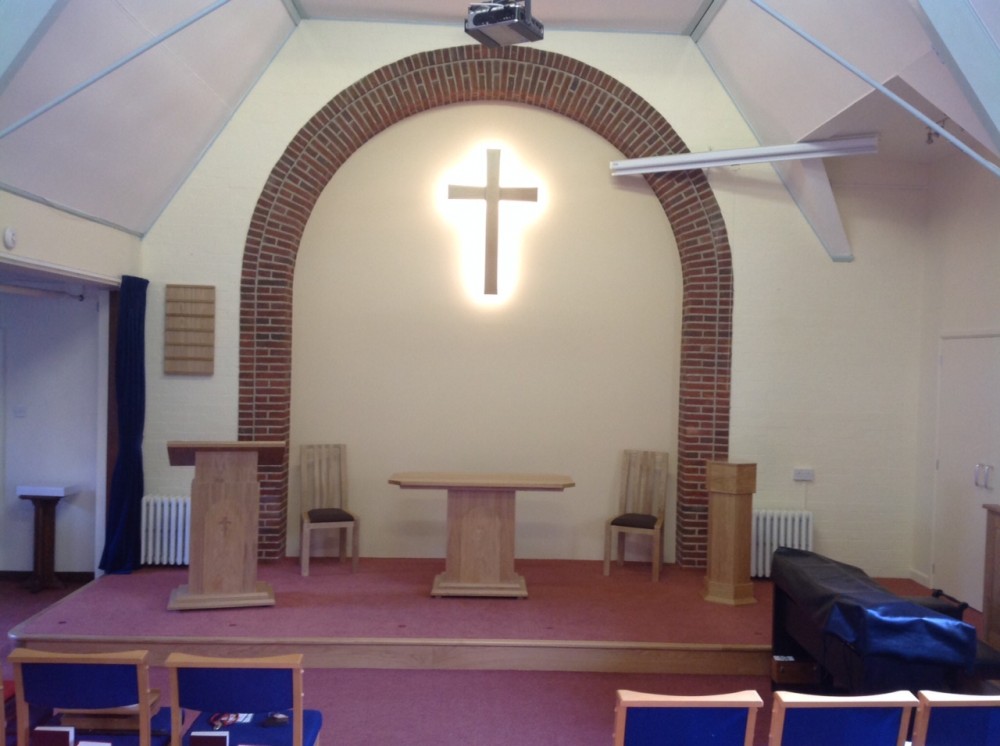 Frimley Green Methodist Church is a brick built building in the heart of Frimley Green, serving both the church and the wider community. The building was first completed in 1940, and replaced an old tin chapel, since then an extension has been added and the wooden stalls replaced with more comfortable seating. The church is a busy multi-functional venue with many activities taking place each week. In 2015 a decision was made to update the building and Fullers Finer Furniture was commissioned to carry out the work.
The brief was to modernise and improve the functionality of the space at the front of the church and to provide new furniture that was both aesthetically pleasing and pleasingly functional.
The front wall of the church consisted of a brickwork arch set back from brickwork pillars. The lower half was partially covered with a curtain with a decorative cross above. Work commenced and the front wall was plastered and decorated to match the rest of the church. The cross was taken down, restored and returned to its original position with the addition of LED lights behind, to give a much more contemporary feel.
Storage was a problem and with this in mind a stud wall was built in an unused corner at the front of the church and the space was turned into a walk in cupboard with light. The cupboard was skilfully designed to blend in with the décor of the front of the church, so as not to detract in any way from the dais area.
In order to complete the look, work was carried out to repair and extend the dais area and change the shape slightly at one end. Floor boxes were fitted to ensure all wiring was positioned safely and out of sight.
Fullers Finer Furniture were appointed project managers and coordinated as necessary with the plasterer, electrician and AV company to ensure disruption was minimised and the work was completed on time and to the client's satisfaction. Fullers Finer Furniture's level of experience in managing projects such as these ensured that the client could rest assured the project was in safe hands.
The new look building was complimented by furniture made to order by Fullers Finer Furniture. This consisted of a height adjustable York Lectern in oak, fitted with a monitor and decorative front panel, a matching Communion Table and Hymn Board. These items together provided an aesthetically pleasing combination of practicality and natural beauty which together with the other modernisations will serve both the church and the wider community for many years to come.