Aspiring to the heights.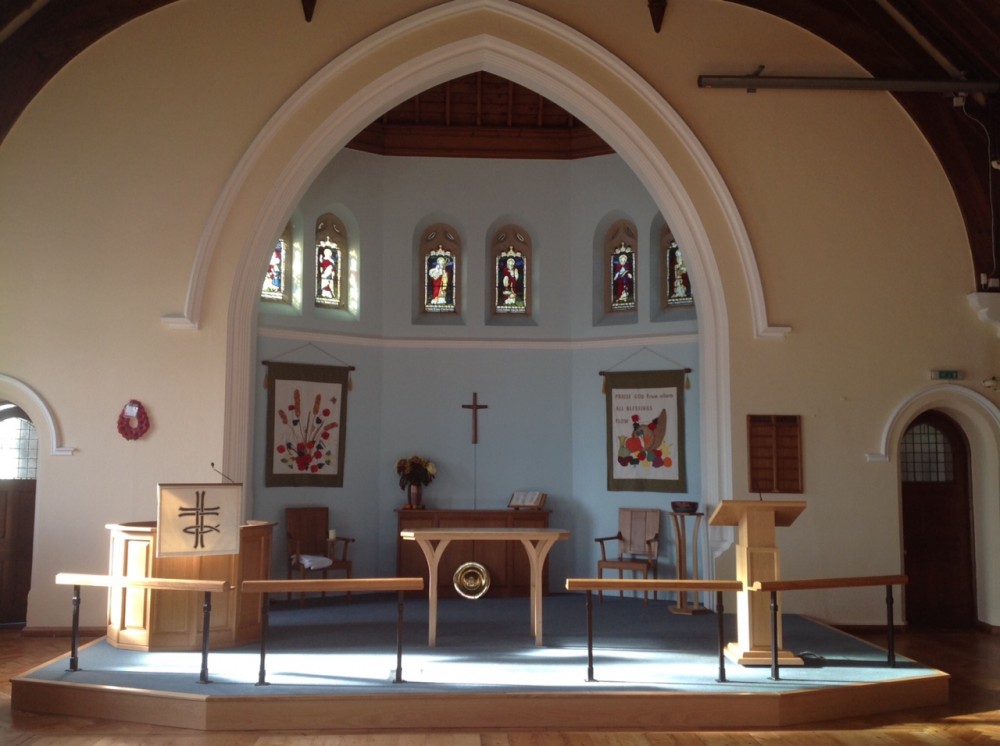 Fullers Finer Furniture was first contacted in April 2016 with regard to a planned project to update Petersfield Methodist Church. The church is an imposing building, built in 1903 with a high tower making the building a prominent local landmark.
The church aims to be welcoming and all-inclusive; it has a busy timetable of weekly events for both members and those in the wider community, which it serves. A glance at the church website shows that in addition to regular services there are activities such as county dancing, short mat bowls and art classes. A recent skittles evening, held in the church evidences just how adaptable the building needs to be!!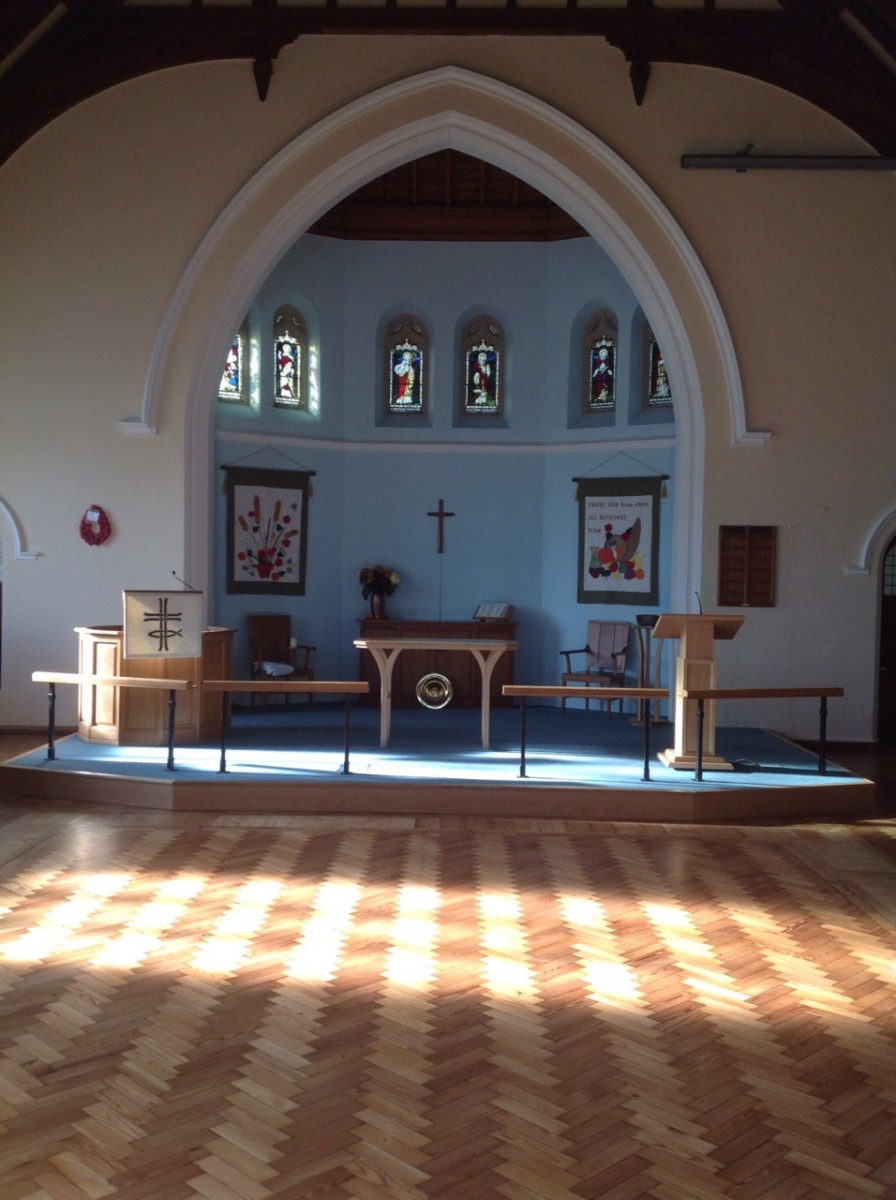 Fullers Finer Furniture were consulted with regard to what was a major project involving the building of a new stage area, the provision of sanctuary furniture and finally the manufacture of a stunning centre piece cross.
Paul, proprietor of Fullers Finer Furniture made site visits to the church before commencing work, this to guarantee good communication and understanding between all parties involved in the project and smooth running of the project once underway.
Work commenced with the provision of a new stage area. The old stage was removed and the new stage fitted, with care being taken to make provision for disabled access. Floor boxes were fitted as required to facilitate the modern technology in use at the church.
Next work commenced on the communion rails which were adapted to form four removable rails. The existing oak handrails were remodelled and re-polished and new metal legs fabricated, enabling the rails to fit into 8 sockets in the new dais area. The sockets are neatly covered over with metal cover plates when the rails are not in use. This maintains the use of the existing rails whilst maximising the flexibility of the stage area in allowing for their removal.
Moving upwards to the furniture to go on the new dais. A Communion Table and Canterbury Lectern were supplied for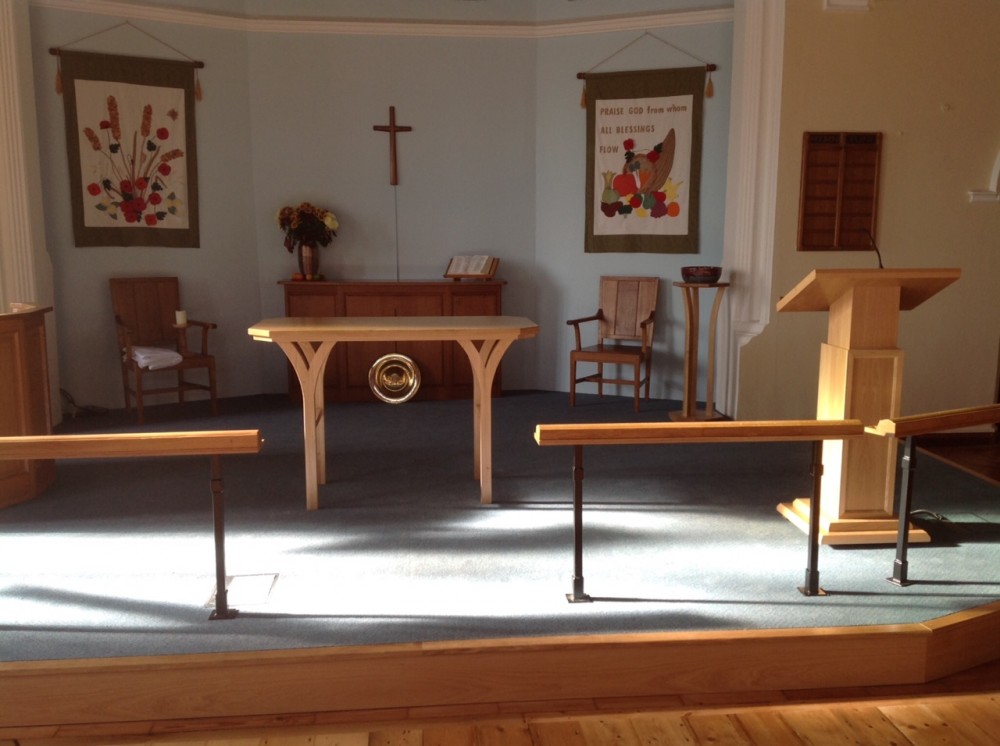 use on the dais area. The Canterbury Lectern was fitted with a monitor and an i-Pad rest, the latter currently proving a popular option with clientele. All Fullers Finer Furniture Canterbury Lecterns are fitted with their renowned gas lift, height adjustable technology and also castors to allow for easy manoeuvrability. A matching font was also made to accommodate a pottery bowl made and supplied by a member of the church.
Moving higher still, the final item supplied was an oak wall cross with a set in cross made from black walnut. The cross was further set off by white dimmable LED backlighting, a stunning piece to finish the whole project and a vital symbol to focus attention on the hope and love which can be brought to many through the message and actions of those within the church.